Yoo-hoo and Nesquik are two of the most iconic chocolate-flavored drinks ever. They have been a favorite addition of countless lunchboxes and refrigerators in America and beyond for decades.
This article will take an in-depth look at the differences between Yoo-hoo vs Nesquik. We will give our opinion on which one is better in regard to taste along with other relevant information about these two brands. You can vote for your favorite (if any) at the end of this article.
Blind Taste Test
Two adults and a 9-year-old tasted both beverages without knowing which one was Yoo-hoo or Nesquik. Some of the comments we received about the Yoo-hoo are as follows:
"It tastes like chocolate-flavored water."
"It tastes like artificial chocolate syrup mixed with water."
"It tastes like artificial chocolate milk."
Comments about the taste of Nesquik were:
"It tastes like real chocolate milk."
"It tastes like melted ice cream or a milkshake."
"It tastes better than chocolate milk that comes in a large carton."
If you review the ingredients of each product below, the above comments during the taste test make sense. You will see some major differences in ingredients that undoubtedly contribute to their taste difference. Nesquik was unquestionably the superior product in regard to taste according to our taste testers. 
Color and Texture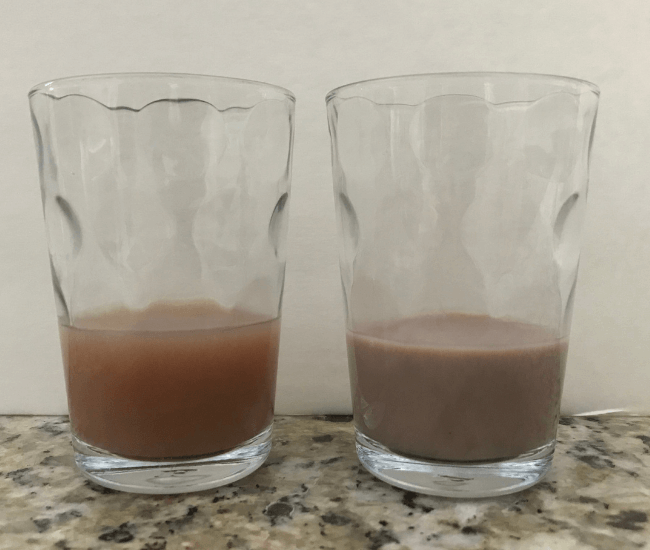 You can see from the above photo that there is a somewhat significant color difference between these two products. The Yoo-hoo on the left has the color of apple cider whereas the Nesquik on the right looks like true chocolate milk. The texture of Yoo-hoo is also similar to apple cider with a watery texture. The Nesquik was much thicker and how you would expect the texture of a classic glass of chocolate milk to be.
Many times when you look at the ingredients of two similar food products, there is not much difference between the ingredients. An example is the ingredients in Heath vs Skor bars, which have many of the same ingredients. However, there are major differences in the ingredients of Yoo-hoo vs Nesquik. Yoo-hoo's primary ingredients include water and high fructose corn syrup. Nesquik's main ingredients include low-fat milk and sugar. You can examine the other ingredients below but it should be a no-brainer that Nesquik is superior in ingredients to Yoo-hoo.
Ingredients
Yoo-hoo – Water, high fructose corn syrup, whey (from milk), contains less than 2%: cocoa (alkali process), nonfat dry milk, natural and artificial flavors, sodium caseinate (from milk), corn syrup solids, calcium phosphate, dipotassium phosphate, palm oil, guar gum, xanthan gum, mono and diglycerides, salt, spice, soy lecithin, sucralose, niacinamide (vitamin B3), vitamin A palmitate, riboflavin (vitamin B2), cholecalciferol (vitamin D3)
Nesquik – Lowfat milk, sugar, less than 2% of: cocoa processed with alkali, calcium carbonate, cellulose gel, natural and artificial flavor, carrageenan, salt, gellan gum, cellulose gum, vitamin A palmitate, vitamin D3
Ownership
Yoo-hoo was invented in the 1920s by Natale Olivieri who owned a grocery store in New Jersey. Before inventing Yoo-hoo, Olivieri already had experience bottling carbonated fruit drinks that he sold at his store. He used his wife's canning techniques to pasteurized Yoo-hoo to prevent spoilage. The brand has had several owners through the years including such companies as Iroquois Brands, Pernod Ricard, and Cadbury Schweppes. Yoo-hoo is currently owned by Keurig Dr Pepper.
Nesquik is a brand owned by Nestle. The company began selling Nesquik as a chocolate drink mix in 1948. It was called Nestle Quik in the United States until 1999 when the name switched over to Nesquik in all markets. Nesquik was not a new name since it has been used in the European market starting sometime in the 1950s.
Nutrition Facts
Keep in mind that when you compare the nutrition facts of Yoo-hoo vs Nesquik that the serving size of Nesquik is larger than Yoo-hoo. A bottle of Nesquik, as shown in the image at the top of the article, has 8 fluid ounces vs 6.5 fluid ounces for Yoo-hoo.
Overall, while Nesquik has more calories, it also provides much more protein compared to Yoo-hoo. As the table below shows, Nesquik has 8 grams vs 1 gram for Yoo-hoo. Simply looking at the nutrition of these two drinks, we believe Nesquik holds the advantage with its higher protein and slightly higher calcium.
| | | |
| --- | --- | --- |
| | Yoo-hoo | Nesquik |
| Serving Size | 1 Box (6.5 fl oz) | 1 Bottle (8 fl oz) |
| Calories | 90 | 140 |
| Total Fat | 1g | 2.5g |
| Saturated Fat | 0g | 1.5g |
| Trans Fat | 0g | 0g |
| Cholesterol | 0mg | 10mg |
| Sodium | 140mg | 130mg |
| Total Carbohydrate | 22g | 23g |
| Dietary Fiber | 0g | <1g |
| Total Sugars | 20g | 21g |
| Protein | 1g | 8g |
| Vitamin D | 20% DV | 10% DV |
| Calcium | 20% DV | 30% DV |
| Iron | 0% DV | 4% DV |
| Potassium | 4% DV | 8% DV |
Poll: Yoo-hoo vs Nesquik
Do you have a favorite between Yoo-hoo or Nesquik? Vote for the one you like best in the poll below. Keep checking back to see the results as the votes come in!