Kroger had its ice cream pails on sale a few weeks ago. The pails are those giant 1 gallon (128-ounce) containers that hold well over double of what is in a standard ice cream carton.
It was a bit over $5.00 for a pail of Kroger Deluxe Vividly Vanilla ice cream. After several recent bowls of this ice cream, here is my honest opinion about it!
Taste Test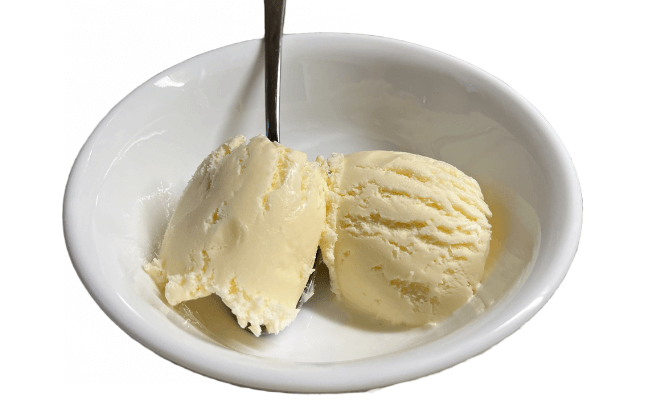 Right from the first bite, you can tell that it is not a premium ice cream.
It's what you'd expect sitting alongside a piece of cake at a kid's birthday party. Its the type of ice cream that is decent on its own but greatly improves with help from dessert toppings like hot fudge, sugary strawberries, or sprinkles.
The above being, this ice cream is pretty damn good for a store brand. As the vividly portion of its name suggests, it has a deep and noticeable vanilla flavor that is pleasant and not overpowering.
The ice cream has a bit of an artificial flavor but you really need to seek it out to taste it. It has a nice balance of vanilla, cream, and sugar flavors that will please many palates.
One of the best parts about this ice cream is its scoopability. For example, if you buy a giant pail for a party where you wish to serve guest quickly, the ice cream is essential ready to scoop straight from the freezer. There is no worry of waiting around for the ice cream to thaw to get a scoop into it.
Would I buy this ice cream again? Yes, but only on occasion.
While its taste is above average for a store brand, its ingredient (see below) are not something I want to eat routinely. There are just too many other more premium brands that I can get on sale with better ingredients that taste better for just a bit more money.
Ingredients
Below you can see how the ingredients in Kroger Vividly Vanilla compare to Tillamook Old-Fashioned Vanilla, a premium ice cream.
The premium Tillamook ice cream is made with simple ingredients. However, the Kroger ice cream has several less desirable ingredients such a high fructose corn syrup, artificial flavor, polysorbate 80, and carrageenan.
If you are strict about eating natural, real ingredients you should skip eating Kroger Vividly Vanilla and go with one of the many premium or super premium vanilla ice cream products out there.
Kroger Deluxe Vividly Vanilla – Milk, Cream, Sugar, Corn Syrup, High Fructose Corn Syrup, Whey, Skim Milk, Natural and Artificial Flavor, Cellulose Gel, Guar Gum, Cellulose Gum, Mono- and Diglycerides, Locust Bean Gum, Polysorbate 80, Carrageenan, Annatto (For Color).
Tillamook Old-Fashioned Vanilla – Cream, Skim Milk, Milk, Sugar, Pasteurized Egg Yolks, Vanilla Extract, Tara Gum, Guar Gum, Natural Flavor.
Nutrition Facts
Vanilla ice cream is generally one of the best types of ice cream to eat if you are watching your calorie intake. It has no mix-ins such as candy, peanut butter, or caramel sauce to add calories to it.
The Kroger Deluxe Vividly Vanilla nutrition facts are as follows:
| | |
| --- | --- |
| Serving Size | 2/3 cup (87g) |
| Calories | 170 |
| Total Fat | 9g |
| Saturated Fat | 6g |
| Trans Fat | 0g |
| Cholesterol | 35mg |
| Sodium | 65mg |
| Total Carbohydrate | 21g |
| Dietary Fiber | 0g |
| Sugar | 16g |
| Added Sugar | 10g |
| Protein | 3g |
| Calcium | 100mg, 8% |
| Iron | 0mg, 0% |
| Potassium | 170mg, 4% |
| Vitamin D | 0.1mcg, 0% |
**View the nutrition facts on the product label for the most accurate information.**
Final Thoughts
Kroger Deluxe Vividly Vanilla ice cream is a bit better than what you'd expect from a store brand vanilla. Its taste isn't going to have the room asking where you bought the ice cream but it certainly won't have many complaints. This is especially true when its served with topping, mix-ins, or next something like pie or cake.
One of the best qualities of this ice cream is the value its provides. Given you can get a standard size carton for under $3.00 and a giant gallon pail for under $6.00 on sale, the taste for the money is well worth it for many people.
This ice cream is only recommended as a budget-friendly pick that tastes decent. There are many other vanilla ice cream products out there that taste much better with purer ingredients that you should select over this ice cream if taste is your main factor when selecting an ice cream.