When it comes to the ingredients in pancakes, there is often confusion about whether or not they contain eggs. Some people assume that all pancakes are made with eggs, while others are unsure.
This article takes a look at the different types of pancakes, including frozen, restaurant, pancake mixes, and homemade, to help you understand if they have eggs. Let's get into what you need to know about pancakes and eggs potentially being in them.
Frozen Pancakes & Eggs
If you're someone who enjoys the convenience of frozen pancakes, you may be wondering if they contain eggs. The answer is that it is very common for frozen pancakes to contain eggs.
Eggs are a typical ingredient in pancake batter, as they help to bind the ingredients together and add moisture. Additionally, eggs provide a source of protein, which can be beneficial for those looking for a quick and easy breakfast option.
We checked the ingredients of the frozen pancake products listed below to see if they contain eggs. As you can see, all of them had eggs in them at the time of this article.
In short, you should assume any given frozen pancake product contains eggs unless you can verify otherwise. Be sure to check the ingredients on the product label of any frozen pancake product if avoiding eggs is important to you.
| Frozen Pancake Product | Eggs (Yes or No)? |
| --- | --- |
| Eggo – Blueberry Pancakes | Yes |
| Eggo – Minis Original | Yes |
| De Wafelbakkers – Buttermilk Pancakes | Yes |
| Funfetti – Unicorn Pink Buttermilk Pancakes | Yes |
| Great Value – Buttermilk Pancakes | Yes |
| Hungry Jack – Buttermilk Pancakes | Yes |
| Kodiak Cakes – Buttermilk Power Flapjacks | Yes |
| Kroger – Buttermilk Pancakes | Yes |
| Signature Select – Buttermilk Pancakes | Yes |
Restaurant Pancakes & Eggs
In addition to frozen pancakes, you should also be cautions of pancakes ordered from restaurants if you wish to maintainx an egg-free diet. It is extremely common for restaurant-style pancakes to contain eggs.
We pulled up the allergen information for the pancakes listed below that are found at popular restaurants. Similar to the frozen pancakes, all contained eggs at the time of this article.
| Restaurant Pancake | Eggs (Yes or No?) |
| --- | --- |
| Bob Evans – Buttermilk Pancakes | Yes |
| Cracker Barrel – Buttermilk Pancakes | Yes |
| Denny's – Pancakes | Yes |
| IHOP – Original Buttermilk Pancakes | Yes |
| McDonald's Hotcakes | Yes |
| Perkins – Buttermilk Pancakes | Yes |
Be aware that even if you are able to find a restaurant that makes eggless pancakes, there is a risk cross-contact with eggs assuming the restaurant makes other dishes containing them. If you are strict about not consuming eggs, you may wish to discuss the potential of cross-contact with the server, management, or the chef (if available) who is preparing your food.
SEE ALSO>>>Do Waffles Have Eggs? (Answered)
Pancake Mixes & Eggs
Eggs are not typically in store-bought dry pancake mixes but there are some outliers that contain them. Additionally, some dry mixes call for eggs to be added to the dry mix as a part of the preparation process.
We should also note that many pancake mixes are made in facilities that use shared equipment where traces of eggs may inadvertently end up in the mixes.
If you wish to avoid eggs, review the ingredients on the packaging of any pancake mix to ensure it does not have egg ingredients. You should also examine the directions on the box to verify that eggs are not required to prepare the pancakes.
Furthermore, if consuming trace amounts of egg is a concern for you, you should also confirm if a given pancake mix is made in a facility that uses shared equipment that processes other products that contain eggs. Check the packaging, product website, or contact the manufacturer with questions regarding potential cross-contact.
As the table shows, there are several options for people seeking eggless pancake mixes.
| Pancake Mix | Eggs (Yes or No)? |
| --- | --- |
| Birch Benders – Organic Buttermilk Pancake & Waffle Mix | No |
| Bob's Red Mill – Gluten Free Pancake Mix | No |
| Hungry Jack – Complete Extra Light & Fluffy Mix | No |
| Kodiak Cakes – Chocolate Chip Power Cakes | No |
| Kroger – Complete Original Pancake & Waffle Mix | No |
| Krusteaz – Blueberry Pancake Mix | No |
| Krusteaz – Buttermilk Pancake Mix | Yes |
| Pearl Milling – Buttermilk Complete Mix | No |
Homemade Pancakes & Eggs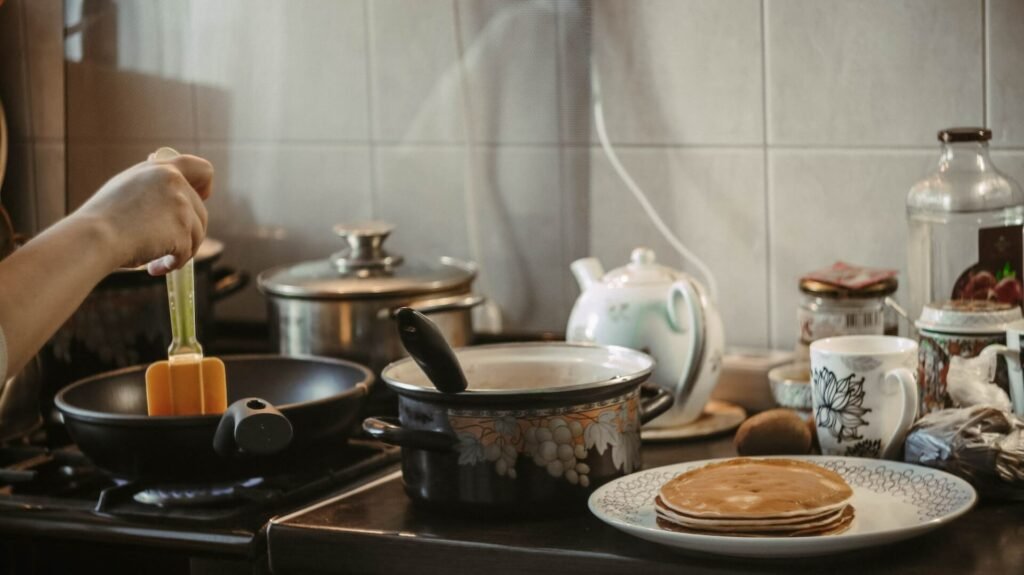 Homemade pancakes are one of the best options if you are living an egg-free lifestyle. Since you control the ingredients, you can ensure that eggs do not end up in your pancakes.
You can simply do an internet search for eggless homemade pancakes and you will find numerous recipes. Here are a few to consider that have good reviews:
Final Thoughts
Frozen and restaurant pancakes typically contain eggs, while pancake mixes and homemade pancakes can be made without eggs or with substitutes. People with dietary restrictions should always check the ingredients of pancakes they are consuming or opt for making them at home using a recipe that does not call for eggs.