Coleslaw is a classic side dish that is popular all over the world. It is typically made with shredded cabbage and a dressing that can vary depending on the recipe.
One of the questions that many people have about coleslaw is whether it contains dairy. In this article, we will inform you if store-bought, restaurant, and homemade coleslaws commonly contain dairy.
Store-Bought Coleslaw & Dairy
Coleslaw purchased from the grocery is available pre-made in containers that are typically found in the refrigerated deli section. These ready-to-eat coleslaw products are typically dairy-free. Their creaminess is commonly derived from mayonnaise which typically has eggs but not dairy.
Below you will find the ingredients for Kroger Creamy Cole Slaw to give you an idea of what is in this type of coleslaw. You'll notice no dairy ingredients in it at the time of this article. Note that ingredients can change so be sure to review the actual product label at the store for the most accurate ingredient information.
Cabbage, Mayonnaise (Soybean Oil, Distilled Vinegar, Egg Yolk, Water, Salt, Natural Flavor), Sugar.Contains 2% or Less of the Following: Pickle Relish (Cucumbers, Sugar, Salt, Xanthan Gum, Alum, Natural Flavors, Polysorbate 80, Turmeric [For Color]), Carrots, Bell Peppers, Salt, Citric Acid, Sodium Acid Sulfate, Sodium Ascorbate, Celery Seed, Xanthan Gum, Sodium Benzoate and Potassium Sorbate (Preservatives), Ascorbyl Palmitate, White Pepper, Ascorbic Acid, Wheat Germ. Contains: Eggs & Wheat.
Another popular way to enjoy coleslaw from the store is to purchase a bag of coleslaw mix along with coleslaw dressing. You combine the coleslaw mix with the dressing at home to create a tasty side dish.
This type of coleslaw also typically does not have dairy. The coleslaw mix is commonly made with just plant-based ingredients such as shredded cabbage and carrots. Additionally, the coleslaw dressing is where you might expect dairy to be hidden in it. However, these dressing are typically made with eggs for texture and taste and not dairy ingredients.
Here are examples of the ingredients in two popular store-bought coleslaw dressings:
Marzetti Original Slaw Dressing – Soybean Oil, Sugar, Corn-cider Vinegar, Water, Egg Yolk, Salt, Mustard Seed, Xanthan Gum.
Kraft Cole Slaw Dressing – High Fructose Corn Syrup, Water, Vinegar, Soybean Oil, Salt, Contains Less Than 2% Of Modified Food Starch, Egg Yolks, Mustard Flour, Polysorbate 60, Xanthan Gum, Phosphoric Acid, Natural Flavor (Contains Celery), Extractives Of Paprika, Artificial Flavor, Potassium Sorbate And Calcium Disodium EDTA (To Protect Flavor).
SEE ALSO>>>Does BBQ Sauce Have Dairy? (Answered)
Restaurant Coleslaw & Dairy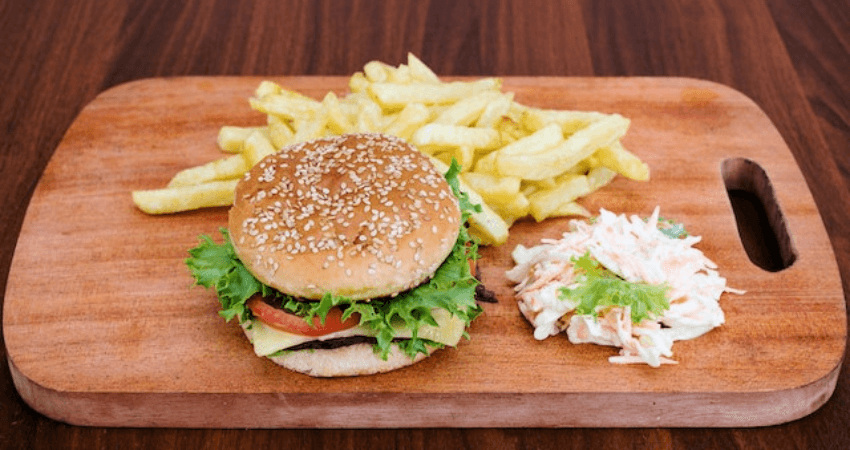 Dining out can be challenging when you are trying to avoid ingredients like dairy. You are relying on the restaurant to correctly inform you if dairy or other potentially unwanted ingredients are in menu items. Furthermore, you have to worry about the potential for cross-contamination in the restaurant where ingredients inadvertently end up in your food through shared equipment or other means.
Of course, it's impossible for us to inform you if every restaurant coleslaw has dairy. However, most should be dairy-free similar to the store-bought varieties. If you're dealing with dairy allergies, lactose intolerance, or have other reasons not to consume dairy, you should confirm with the restaurant if their coleslaw has dairy will keeping in mind the factors discussed in paragraph above.
Homemade Coleslaw & Dairy
Homemade coleslaw is the best course to take if you wish to eat dairy-free coleslaw. When you make it at home, you control the ingredients and know exactly what goes into it. You can also ensure that dairy does not indirectly get into the slaw.
Most online recipes call for no dairy ingredients. The common ingredients for homemade coleslaw often include cabbage, carrots, mayonnaise, mustard, vinegar, sugar, and salt & pepper.
Simply search for "coleslaw recipe" online and you will find numerous non-dairy options. You can also specifically search for non-dairy or vegan coleslaw if you wish to be more specific.
Here are three dairy-free coleslaw recipes you might wish to try if you rather not search on your own:
Final Thoughts
In summary, most coleslaws do not contain dairy but there are certainly varieties of it that do contain it. The potential food allergen that is most common in coleslaw is egg from the mayonnaise that is typically used as the base ingredient.
If you are lactose intolerant, vegan, or have a dairy allergy, it is important to check the ingredients of any coleslaw before consuming it. Additionally, there are many dairy-free coleslaw recipes available that are just as delicious as their dairy-containing counterparts.