It is common for frozen yogurt to contain dairy. You should expect any frozen yogurt you come across to contain dairy unless you can determine that it is dairy-free through a review of the ingredients and allergen information.
Read on to learn the details about dairy in store-bought and yogurt shop frozen yogurts.
Store-bought frozen yogurt & dairy
Willis Lam/flickr
Store-bought frozen yogurt commonly contains dairy. It is primarily made with skim milk, cultured milk, and whey, which are the key ingredients used in its preparation.
The table below reflects a random sampling we pulled of frozen yogurt brands and the dairy used to make them. As you can see, all contain multiple sources of dairy.
| Frozen Yogurt Product | Dairy (Yes or No)? | Type of Dairy Used |
| --- | --- | --- |
| Ben & Jerry's – Cherry Garcia Froyo | Yes | Skim Milk, Cream, Nonfat Yogurt Powder, Milkfat |
| Blue Bunny – Vanilla Bean | Yes | Skim Milk, Milk, Cream |
| Favorite Day – Vanilla | Yes | Skim Milk, Sweet Cream Buttermilk, Cultured Skim Milk, Cream, Whey, |
| Gifford's – Black Raspberry Chocolate Chip | Yes | Nonfat Dried Milk, Cream, Butter Oil |
| Kemps – Peanut Butter Cups | Yes | Skim Milk, Whey Soy Lecithin, Sweet Cream Buttermilk, Cultured Skim Milk, Skim Milk, Milk, Whey |
| Kroger – Chocolate Deluxe | Yes | Cultured Milk, Skim Milk, Whey |
| Mixmi – Orange Dream | Yes | Milk, Cultured Milk |
| Noosa – Chocolate Fudge | Yes | Cream, Skim Milk, Whole Milk Yoghurt |
| Perry's – Key Lime Pie | Yes | Skim Milk, Buttermilk, Cultured Skim Milk, Milk, Nonfat Dry Milk, Cream |
| Publix – Moose Track | Yes | Cultured Lowfat Milk, Whey, Nonfat Milk, Milk, Nonfat Dry Milk, Whey Protein Concentrate, Cultured Dairy Solids |
| Umpqua – Chocolate | Yes | Nonfat Milk, Cultured Nonfat Milk, |
**Reference the actual product label for the most accurate ingredient and allergen information to base your buying decision on.**
Frozen Yogurt Shops & Dairy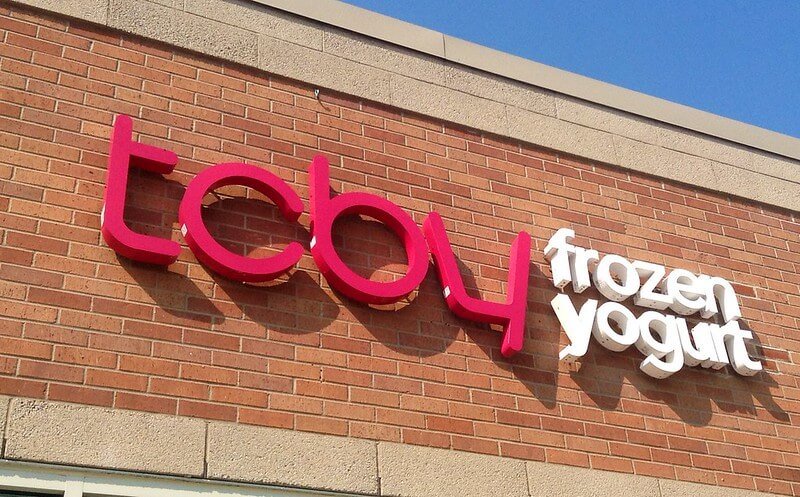 Mike Mozart/flickr
You should expect most frozen yogurt purchased from yogurt shops to contain dairy. However, there are exceptions.
Many major yogurt shops today offer dairy-free options for guests. These are often plant-based froyo-type desserts or sorbets.
The list below provides the non-dairy options offered at some of the most popular frozen yogurt chains. Keep in mind that these non-dairy options are in addition to the typical dairy-based frozen yogurt flavors offered at these shops.
Menchie's – Sorbet options are dairy-free. They also have plant-based/vegan flavors made with oat, coconut, and almond milk.
Orange Leaf – Some flavors are dairy-free. See the allergen chart on the company website for more details.
Pinkberry – They sell coconut milk and just fruit dairy-free desserts.
SweetFrog – Dairy-free items include sorbet, Silk almond milk flavors,
TCBY – dairy & non-dairy frozen yogurt available.
Yogen Früz – Non-dairy bases and vegan sorbet offered.
Yogurtland – They offer dairy-free plant-based and sorbet options.
Frozen Yogurt vs Ice Cream Nutrition
Frozen yogurt is generally a healthier option compared to regular ice cream in regard to nutrition without factoring in ingredients.
The table below shows the difference between Kemps vanilla frozen yogurt versus its old fashioned vanilla ice cream to give you an example of the difference.
As the table shows, the frozen yogurt wins on calories, total fat, saturated fat, cholesterol, and sodium. The froyo is much better than your typical full fat ice cream without considering ingredients.
To be fair to ice cream, there are some reduced fat ice cream products that are closer in nutrition compared to frozen yogurt. Check the labels at the store if the nutrition facts are meaningful to you.
Kemps – Vanilla
Frozen Yogurt
Kemps – Old Fashioned
Vanilla Ice Cream
Serving Size
2/3 Cup (87g)
2/3 Cup (95g)
Calories
120
200
Total Fat
0g
10g
Saturated Fat
0g
7g
Trans Fat
0g
0g
Cholesterol
0mg
40mg
Sodium
70mg
75mg
Total Carbohydrates
26g
23g
Dietary Fiber
0g
0g
Total Sugars
18g
18g
Add Sugars
13g
12g
Protein
3g
3g
Calcium
130mg, 10% DV
140mg, 10% DV
Frozen Yogurt vs Ice cream Ingredients
The ingredients used in frozen yogurt and ice cream are generally similar, but there are some key differences that distinguish the two. Here are the main ingredient differences between frozen yogurt and ice cream:
Milk Fat Content:

Ice Cream: Ice cream typically contains a higher milkfat content that usually ranges from 10% to 12%. This contributes to its creamy and rich texture.
Frozen Yogurt: Frozen yogurt generally has a lower milk fat content compared to ice cream. It typically contains between 0.5% and 6% milk fat.

Milk and Dairy Products:

Ice Cream: Ice cream is primarily made with milk and cream, which provide the base for its creamy texture. The milk used can be whole milk or a combination of whole milk and cream.
Frozen Yogurt: Frozen yogurt also uses milk as its base, but it often includes yogurt or yogurt cultures, which give it a tangy flavor. Skim milk is often the most predominant dairy product used to make frozen yogurt.

Sweeteners:

Ice Cream: Ice cream is commonly sweetened with granulated sugar, corn syrup, or other sweeteners.
Frozen Yogurt: Frozen yogurt can be sweetened with various sweeteners, including sugar, corn syrup, honey, agave syrup, or artificial sweeteners.

Cultures and Probiotics:

Ice Cream: Ice cream typically does not contain live cultures or probiotics.
Frozen Yogurt: Frozen yogurt often contains live and active cultures, similar to those found in regular yogurt. These cultures are responsible for the tangy flavor and may offer potential health benefits.

Flavorings and Additives:

Ice Cream: Ice cream flavors can range from traditional options like vanilla and chocolate to a wide variety of fruit, candy, and nut flavors. It may also include add-ins such as chocolate chips, cookie dough, or caramel swirls.
Frozen Yogurt: Frozen yogurt flavors are similar to ice cream, with a range of options available. Additionally, frozen yogurt often offers a variety of toppings like fresh fruits, nuts, candies, and syrups to customize the dessert.
It's important to note that specific brands and recipes may vary in their ingredient composition, so it's always advised to check the label or contact the manufacturer for detailed information about a particular product.