Let's touch on a few points before we list the ice cream brands without eggs.
Firstly, it's important to read the ingredients on the label regardless of what you read here. We say this because ingredients can change at any time and the product packaging will reflect the most accurate ingredient information.
Secondly, let's talk about some generalities about eggs in ice cream before we get into specific brands. In general, you should be cautious about the following types of ice cream if you wish to avoid eggs:
French Vanilla – A common component of French vanilla ice cream is egg yolks. Skip this variety of vanilla ice cream unless you can confirm it is egg-free.
Homemade Vanilla – It varies by brand but there are certainly homemade vanilla ice cream products made with eggs.
Brownie Ice Cream – Eggs are typically a component of brownies. During our research we found several ice cream products with brownies that had eggs in them.
Custard Ice Cream – Custard is made with egg yolk. Any ice cream labeled with the word "custard" should signal that it likely contains eggs.
Cake/Pie Ice Cream – Several ice creams with cake or pie ingredients have eggs in them.
Cookie Ice Cream – Eggs are an ingredient commonly used to make cookies. Naturally, some ice cream products that contain cookies will also have eggs.
Snickers Ice Cream – Snickers have eggs in them as a component of the center nougat. Any ice cream with Original Snickers will have eggs.
Premium Ice Cream – Premium ice cream has superior ingredients with eggs commonly being one of those ingredients.
The above list of red flags is not exhaustive but it should give you an idea of what to look out for when it comes to eggs in ice cream.
Ice Cream Brands Without Eggs
Below you will find the top 10 selling ice cream brands in the United States and the ice cream products they make without eggs as an ingredient.
As you will see, there are certainly many without eggs being a component in them. Keep in mind that the information below does not reflect products like novelties, sorbets, sherbets, or non-dairy ice cream.
Ben & Jerry's
All ice cream contains eggs. They do make egg-free and dairy-free ice cream products.
Blue Bell
These Blue Bell products had no egg ingredients at the time of this article:
Banana Pudding
Birthday Cake
Black Walnut
Butter Crunch
Buttered Pecan
Cherry Vanilla
Chocolate Chip
Chocolate Chip Cookie Dough
Chocolate Peanut Butter Overload
Coffee
Cookies 'n Cream
Cookie Two Step
Cotton Candy
Country Vanilla (No Added Sugar)
Dr Pepper Float
Dutch Chocolate
Homemade Vanilla
Java Jolt
Milk Chocolate
Mint Chocolate Chip
Mocha Almond Fudge
Moo-llennium Crunch
Natural Vanilla
Oatmeal Cream Pie
Peaches & Homemade Vanilla
Peachy Peach
Pecan Pralines 'n Cream
Pistachio Almond
Rocky Road
Southern Blackberry Cobbler
Strawberries & Homemade Vanilla
Strawberry
Tin Roof
The Great Divide
Ultimate Neapolitan
Blue Bunny
The following Blue Bunny ice cream product had zero egg ingredients when this article was completed:
Banana Split
Bunny Tracks
Butter Pecan
Caramel Butter Pecan Praline
Cherrific Cheesecake
Cherry Chocolate Chunk
Chocolate
Chunky Chocolate Chip
Cookies & Cream
Mint Chocolate Chip
Neapolitan
Peanut Butter Party
Peppermint Stick
Pistachio Almond
Rockin' Rocky Road
Salted Caramel Craze
Soft Chocolate
Soft Cookies & Cream
Soft Mint Chocolate Chip
Soft Strawberry
Soft Vanilla
Super Chunky Cookie Dough
Toasted Almond Fudge
Vanilla
Breyer's
These are the ice creams made by Breyer's that had no eggs when this article was written:
Banana Split
Black Raspberry
Butter Pecan
Butter Pecan (No Added Sugar)
Caramel Apple Pie
CarbSmart Brownie a la Mode
CarbSmart Chocolate
CarbSmart Chocolate Chocolate Chip
CarbSmart Mint Chip
CarbSmart Mint Fudge Cookie
CarbSmart Vanilla
CarbSmart Vanilla + Chocolate + Strawberry
Cherry Vanilla
Chocolate
Chocolate Chip
Chocolate Chip Cookie Dough
Chocolate Peanut Butter
Chocolate Truffle
Coffee
Cookies & Cream
Double Chocolate Brownie Batter
Double Cookie Crumble
Dulce de Leche
Extra Creamy Chocolate
Extra Creamy Vanilla
Heath
Lactose-Free Chocolate
Lactose-Free Vanilla
Mango
M&Ms Minis Caramel Fudge
Mint Chocolate Chip
Natural Strawberry
Natural Vanilla
Reese's Chocolate
Reese's Mini Pieces
Reese's Peanut Butter Cups
Rocky Road
Vanilla + Chocolate + Strawberry
Vanilla + Chocolate + Strawberry (No Added Sugar)
Vanilla Chocolate
Vanilla (No Added Sugar)
Vanilla Fudge Twirl
Very Berry Cobbler
Dreyer's/Edy's
You'll have either Dreyer's or Edy's near you depending on what part of the U.S. you live. These ice cream products had no eggs when we reviewed the ingredients:
Birthday Cake
Butter Pecan
Butter Pecan (Slow Churned)
Caramel Delight (Slow Churned)
Chocolate (Slow Churned)
Chocolate Chip
Chocolate Chip (Slow Churned)
Chocolate Peanut Butter Park
Churro Caramel Crossroads
Classic Vanilla (Slow Churned)
Coffee
Cookie Dough (Slow Churned)
Cookies 'n Cream
Cookies 'n Cream (Slow Churned)
Drumstick Sundae Cone (Slow Churned)
Espresso Chip
Fudge Tracks (Slow Churned/No Added Sugar)
Mint Chocolate Chip
Mint Chocolate Chip (Slow Churned)
Mocha Almond Avenue
Neapolitan
Rocky Road (Original)
Rocky Road (Slow Churned)
Salted Caramel Pretzel Path
Strawberry
Vanilla
Vanilla (Slow Churned/No Added Sugar)
Vanilla Bean
Vanilla Bean (Slow Churned)
Häagen-Dazs
This ice cream has eggs. They do make sorbet that is egg-free.
Halo Top
These flavors of ice cream had no eggs at the time of this article:
Birthday Cake
Blueberry Crumble
Candy Bar
Caramel Macchiato
Chocolate
Chocolate Cake Batter
Chocolate Chip Cookie Dough
Chocolate Ice Cream Cake
Chocolate Mocha Chip
Cookies & Cream
Mint Chip
Oatmeal Cookie
Peanut Butter Cup
Pistachio
Raspberry White Chip
Red Velvet
Sea Salt Caramel
Strawberry
Talenti
Talenti specializes in gelato, an Italian style ice cream made a bit different from the typical U.S. versions. Here are the gelatos we found to be egg-free at article time:
Black Raspberry Chocolate Chip
Black Raspberry Vanilla Parfait Layers
Caramel Cookie Crunch
Caribbean Coconut
Chocolate Pretzel Layers
Confetti Cookie Layers
Cookies & Cream Layers
Madagascan Vanilla Bean
Mediterranean Mint
Mint Fudge Cookie Layers
Pacific Coast Pistachio
Peanut Butter Crunch Layers
Peppermint Bark
Vanilla Caramel Swirl
The company also makes some (not all) egg-free sorbetto.
Tillamook
All have eggs.
Turkey Hill
These had no eggs at article time:
Belgian Style Chocolate
Black Cherry
Black Raspberry
Butter Pecan
Choco Mint Chip
Chocolate
Chocolate Chip
Chocolate Chip Cookie Dough
Chocolate Peanut Butter Cup
Columbian Coffee
Cookie Butter
Cookies 'n Cream
Double Dunker
Dutch Chocolate
Fudge Ripple
Graham Slam
Homemade Vanilla
Mint Chocolate Chip
Moose Tracks
Neapolitan
Orange Cream Swirl
Original Vanilla
Peanut Butter Ripple
Peanut Butter Sundae
Pistachio Almond
Salted Caramel
Strawberries & Cream
Tin Roof Sundae
Triple Berry Trio'politan
Triple Chocolate Trio'politan
Triple Vanilla Trio'politan
Vanilla Bean (No Added Sugar)
Vanilla Bean & Chocolate
Vanilla & Chocolate
Vanilla Bean
Vanilla Salted Caramel
Non-Dairy Ice Cream Without Eggs
These are the popular brands of non-dairy ice cream that make products without eggs:
Alden's Organic Non-Dairy
Ben & Jerry's Non-Dairy
Breyer's Non-Dairy
Cado
Doozy Pots
Häagen-Dazs Non-Dairy
JD's Vegan
Mauna Loa's
NadaMoo!
Oatley
Planet Oat
Ripple
So Delicious
Van Leeuwen
Wicked Kitchen
Reviewing Product Labels
You can always verify if an ice cream product has eggs by reviewing its ingredients printed on the label. The example below for Kroger Rocky Road shows no eggs in its list of ingredients.
In addition to the ingredients, eggs will be listed in the allergen section on the label if a product contains them. In the case of the ice cream featured below, it contains milk and almonds as allergens but no eggs.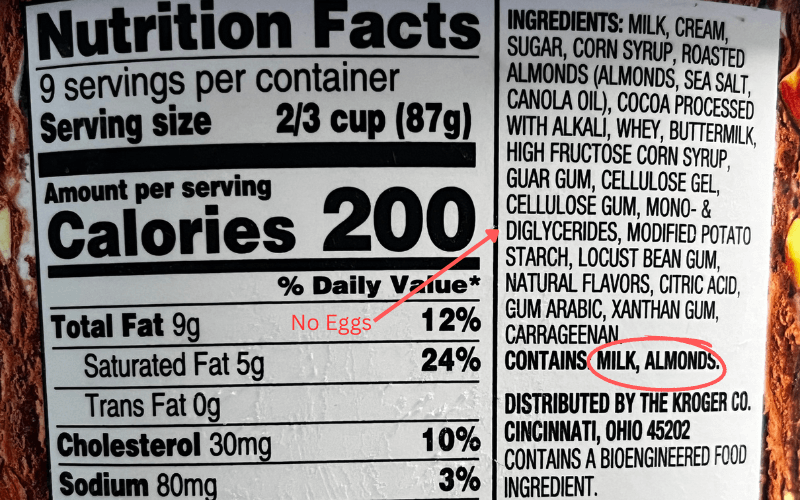 Furthermore, you may wish to contact the manufacturer if cross-contamination is a concern for you where there is a potential for trace amounts of eggs to be in the ice cream from shared equipment or other means.
Overall, you can pick up any ice cream product in just about any U.S. grocery store and determine if it directly contains eggs within seconds. Contact the manufacturer when in doubt about any ingredient that concerns you.